The US novelist talks about the genesis of his gripping debut and his willingness to lay bare the dark, morally abject corners of life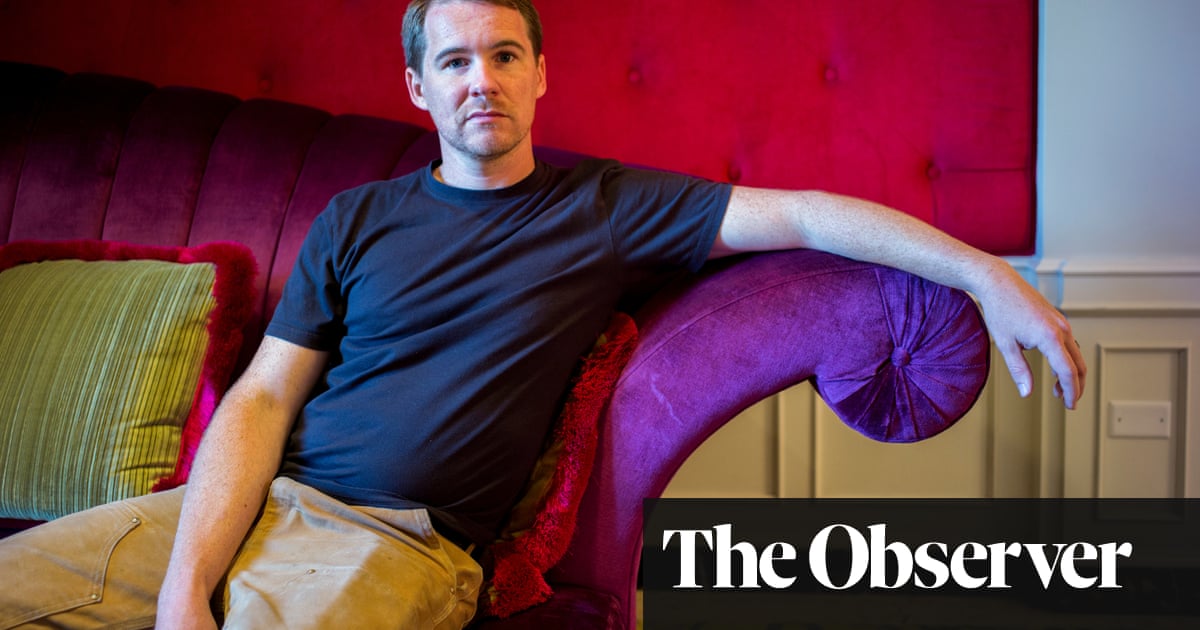 Gabriel Tallent grew up on the Mendocino coast, California, with two mothers. My Absolute Darling, his debut novel, is the story of an isolated teenage girl who is being abused, physically and sexually, by her survivalist father. Set on the wild coastline where Tallent grew up, and following the feints towards freedom made by Tallents heart-piercingly courageous heroine, Turtle, it drew waves of praise when it was published in hardback and became the only literary debut novel to enter the bestseller lists in the US and the UK simultaneously last year.
Was My Absolute Darling always going to be centred on Turtle, your 14-year-old protagonist, or did she come to life in the process of writing?
My initial project was a much more academic, idea-driven book dominated by men,inspired by James Thomsons 18th-century poems, The Seasons, in which Turtle was a peripheral character. A few years into it, I had a draft from beginning to end, and I was even thinking about shopping it to agents, when I realised that Turtles story was the most important story, that for her the stakes were the highest, that in some sense everything else paled to academic terms next to her life. I had kind of a crisis, so I went and I pulled up everything by the roots and wrote the entire book trying to tell Turtles story in the most central way, beginning where I first felt I could illumine the stakes of her life and her emotional predicament, telling that story and abandoning all the rest of the material.
Did you feel any hesitancy about taking on her perspective? Was that ascary thing to do?
It was a terrifying thing to do because it feels like the quality of attention that has to go into that book was immensely daunting, not least because of how painful the text has to be. I very much felt that it was going to have to be a tremendously difficult and dark book, in order to do it justice, and one wonders if one has the chops to do that, right? In writing about Turtles life, I thought I knew a true thing there, a true thing about hurt and what it is to survive hurt. I wasnt embarking upon this as a lark. You want very much to think you have the strength and the rhetorical resources to put this true thing youve seen on the page without making it less, without killing it, without simplifying it, because to simplify it is to lose it.
Youre talking about painful scenes in the book. Were they hard to write and did you feel a responsibility to get it right, to tread the line between exploitation and honesty?
People talk about treading that line, but thats not a real thing, that doesnt make sense, no such line appears. Its not as if the more truthful you become the more closely you approach exploitation. That doesnt seem to be true about writing. Look, in college, I studied cultural history of the 18th century. These concerns grow up with the English novel. The questions of compassion and exploitation are central to the very origins of the novel. The problems presented by rendering a moral predicament are immensely close to my heart and knit into my entire intellectual history.
Its frustrating to come from an academic background and to see those problems handled in ignorant and ham-fisted and short-sighted ways when these are immensely complex problems. But because of this fucked-up world we live in, youre always caught in this predicament, whenever you try and render the predicament of harm whenever you try and render those stakes, you run these risks. But the risks seem clearly worth it, because what is the alternative? The alternative is silence. When we talk about exploitation, exploitation is happening whether or not I write this novel. So long as the survivors of violence of any kind are condemned to absolute silence, so long as we say: OK, that predicament is so morally abject that it cannot be spoken about, so long will those be uninhabitable, unimaginable alien people. You consign that person to a kind of perpetual foreignness. That person is literally a pariah.
Where does that leave you now do you feel a responsibility to highlight other things in your second novel?
In my second, Im writing about friendships. Mostly. Its sort of like a buddy novel that hinges on two friends climbing towers in the American southwest. Itll be a lot about depression and the environment. But who knows? I think the answer is no Im not just going to go around pursuing difficult subject matters. Im going to follow my inspiration and if it takes me to difficult places Ill go there, but Im not going to seek difficult places out.You grew up on the coast where the book is set. Were you as close to nature as Turtle is?
Yes though for obviously super different reasons. I wasnt neglected, I was passionate about hiking, and I spent a tremendous amount of time out there alone. It was all meticulously planned, Id sit down with my parents and show them a map and a detailed chart of my mileage. More had to go into it because I had parental figures who cared deeply about my safety. But her passion about the back country is mine, the love of following the little creeks and streams is also mine.
What kind of reader were you as a child?
Voracious. I came to reading a little late and a little slow but when I did come I started reading just all of the time and loved big sci-fi swashbuckling epics that you can just lose yourself in, and I was proneto reading the same book overand over and over again to memorise long passages. I used to have big sections of The Iliad memorised but now Ive lost it. And The WinterKing by Bernard Cornwell, but I dont think I could do it any longer. That was years ago.
What books and authors have stayed with you since childhood?
Treasure Island. The Winter King I still read. All ofThe Oresteia. The Hobbit.
Whats the last really great book youread?
Exit West by Mohsin Hamid. [Its a book that] takes people who are alien to us and makes them immediately and humanly familiar and that seems to me important work. That seems to me the essential project, and if we dont do that, because of the fear of exploitation, it doesnt happen.
Which classic novel did you read recently for the first time?
Kidnapped[by Robert Louis Stevenson]. I slept in my wool blanket, cowboy camping all through Scotland, and I absolutely loved it. It was so much fun to read a historical adventure tale about someone doing something kind of similar in more desperate circumstances.
And your favourite literary hero?
Queequeg [from Moby-Dick]. Hes incredible and ferociously brave and cuddly all at the same time.
My Absolute Darling by Gabriel Tallent is published by Fourth Estate (8.99). To order a copy for 7.64 go to guardianbookshop.com or call 0330 333 6846. Free UK p&p over 10, online orders only. Phone orders min p&p of 1.99
Read more: https://www.theguardian.com/books/2018/jul/21/book-interview-gabriel-tallent-q-and-a
CERTAIN CONTENT THAT APPEARS ON THIS SITE COMES FROM AMAZON SERVICES LLC. THIS CONTENT IS PROVIDED 'AS IS' AND IS SUBJECT TO CHANGE OR REMOVAL AT ANY TIME.